Introducing adidas Nomad Human Race by Pharrell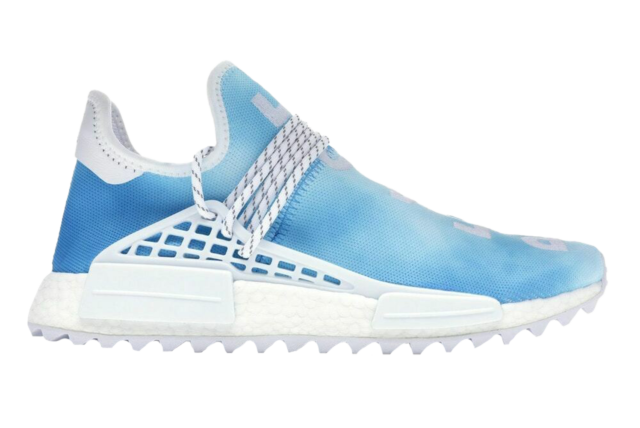 When Pharrell Williams embraced the NMD silhouette, fans took notice. The NMD debuted in 2015, a "Nomad" lifestyle design that later added a City Sock version and a Chukka design. In July 2016, the adidas NMD Hu — short for Nomad Human Race by Pharrell — hit the shelves, the first in what has become regular NMD Hu drops from Pharrell.
Design of the adidas NMD Hu: Best of Both NMD Worlds

The original adidas NMD, a modernized mash-up of archival adidas designs Boston Super, Rising Star and Micropacer, is most remembered for the Boost midsole's plugs. When adidas debuted the CS1, the City Sock 1, in 2016, the model took a slightly different turn by creating a fully Primeknit upper void of laces. The Pharrell version blends the two models, using much of the same upper design as the CS1, but adding a unique lacing system that weaves through a TPU netting-like piece attached to the plugs on the side of the shoe.

The lacing feature provides a singular aesthetic for the NMD Hu. It consolidates the laces toward the ankle, freeing the sneaker's upper to serve as a canvas for Pharrell's creations, which often include words or key designs boldly displayed across the top of the shoe, backed by strong color choices. As with other NMD models, the Boost midsole defines the cushioning and helps to accent the style.
adidas NMD Hu in Popular Culture
Pharrell has a strong following in pop culture, so his Human Race version of the adidas NMD quickly grew in popularity. The allure of having a Pharrell-designed NMD Hu on your feet, coupled with the ability to make an empowering statement with the words adorning the sneakers, was too much to pass up for a host of celebrities — from adidas representative Justin Bieber to NBA star James Harden.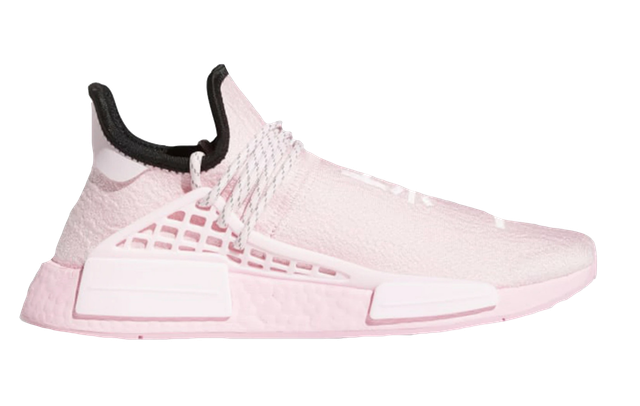 adidas NMD Hu: Colorways and Collabs

The debut of the adidas NMD Hu in July 2016, with Human Race adorning the upper, came in a distinct yellow colorway, giving it the aptly named Yellow moniker (BB0619).


By September 2016, Pharrell was ready for his first full NMD Hu collection, influenced by MHA Nation in North Dakota. Each colorway has a unique wordmark: Human Race on Yellow, Human Species on Black, Human Being on Blue, Hue Man on Tangerine, Hu Race on Red and Hu inside a triangle on Green.


Pharrell took an outside-focused approach for his next iteration, a fall 2017 release dubbed the NMD Hu TR for its trail-ready outsole. The words Clouds, Walk, Earth, Body and Breathe adorn the uppers that come in Multicolor, Pale Nude, Sun Glow and Oreo to tie to the natural elements. The Pale Nude version (AC7361) featuring the word Breathe on the right shoe and Walk on the left is the most popular.


Collaborations have also been a part of Pharrell's efforts, with a pair of Billionaire Boys Club colorways releasing in 2017. The blue and pink version also feature the trail outsole.


While the Billionaire Boys Club had a limited release, the truly exclusive Chanel collaboration (D97921) in late 2017 was the NMD Hu's most sought-after. With limited availability at a Chanel temporary pop-up shop in Paris, those who won the right to purchase a pair had to plunk down $1,160 to make it happen. The black Chanel design uses Pharrell and Chanel as wordmarks.


The collections kept coming in February 2018, with Pharrell creating a design inspired by Hindu traditions from Holi. This colorful collection includes colorways in Black, Coral, Pink Glow and Blank Canvas with words like Peace and Equality.



Pharrell next moved to China for his September 2018 inspiration. These designs have the words Passion, Youth, Peace and Happy with a Chinese translation of the English word. The China Exclusive pack includes Blue, Green, Red and the much-coveted limited-edition Gold pair (F99762) featuring the word Happy.


The Solar Hu pack, inspired by East Africa, also had a September 2018 release with a unique color blocking pattern that brings a mixture of multicolored designs merging with blocks of solid colors.


2019 releases included a Now Is Her Time pack in Pink, Cream and Black.


The Human Made collaboration in October 2019 included a Human Made NMD Hu (EF7223).


In 2020, adidas released a few versions of the NMD Hu, many featuring a more textured knit. A "higher thoughts" collection includes a pair of "Extra Eye" designs, one in Grey/Purple/Light Blue/Maroon and another in Orange. Three different colorways feature Korean characters spelling out Human Race — the Dash Green (Q46466) is extremely popular — and a monochromatic yellow version with Human Race in Hindi. A stripped-down White colorway featuring Human Race in Chinese is stitched on the shoe's forefoot. Following the first round of Korean designs, adidas added another in Brown.
Collectibility and Value of adidas NMD Human Race

Getting the adidas NMD Hu from Pharrell Williams at its retail price is considered a bargain. The most exclusive limited runs are hardest to find, with the Chanel colorway easily fetching over $6,000 and the one-of-300 pairs of China Exclusive's Gold version from 2018 garnering over $4,000 on eBay.

A pair of friends and family-only designs, Respira (Spanish for breathe) and Breathe, are tough to find. Prices stay strong for many versions, like the Yellow version made in collaboration with You Nerd, which scored $1,000 on eBay.

The BBC collaborations enjoy the most resale value from the Cotton version, at about $1,000. A mix of colorways can earn between $600 and $800, such as Scarlet, Black, Cream, Sharp Blue and Green Yellow. Tangerine, Nerd Cream, Blue and Green can fetch up to $600, and colorways typically don't fall below $200.