About Samsung Galaxy S8
The world's first Infinity Display.

The Galaxy S8 expansive display stretches from edge to edge, giving you the most amount of screen in the least amount of space.

Catch every shot.

The Galaxy S8 camera still takes amazing photos in low light, and now has an enhanced front-facing camera so you can take better, clearer selfies.

Designed around you.

Press the Bixby Button and get more done. Bixby learns from your routine to serve up the right apps and content at the right time and makes it easy to ask Bixby a question or make a command.

What you need, when you need it.

Bixby is built into your Galaxy S8 and can adapt to your routine to anticipate what you might need, surfacing specific apps and content based on where you are and what time it is.
eBay has provided more information about this product above and is not affiliated with or endorsed by Samsung.
Price Trends
Samsung Galaxy S8 - Price New and Used
New Price*
from $278 to $373
Used Price*
from $166 to $229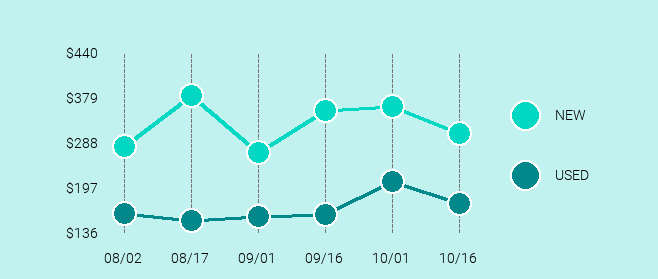 *The average sold price is calculated based on "Buy It Now" items sold within the 90 day period described above (excluding shipping and handling). Each interval represents a 15 day period. There is no guarantee that items will always be listed at a price within the provided range.
Compare Similar Models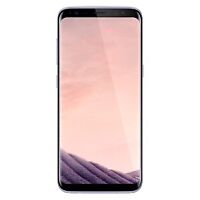 Samsung Galaxy S8
Operating System
Android 7.0 (Nougat), upgradable to Android 8.0 (Oreo)
Camera
12 MP Rear / 8 MP Front
Display Technology
Super AMOLED
Chipset
Exynos 8895 Octa (10 nm) - EMEA / Qualcomm MSM8998 Snapdragon 835 (10 nm) - USA & China
Dimensions
5.86 x 2.68 x 0.31 in
Top 10 High ratings
Top 5 Low ratings
I love this phone!

I'm very happy I took the leap and bought the Samsung Galaxy S8! I had wanted the S8+, but now that I have the S8 I'm very happy with it. The screen is 5.8", which is big enough, but there are no bezels so the actual size of the overall phone is not huge. Makes it easier to put in my pocket and hold in one hand while typing. And as far as the 64 GB of storage, I'm not worried about it because it has an expandable SD card slot, so I can expand my storage another 256 GB! I was excited about the fingerprint scanner, but I actually use the bio-metric iris scanner. Once registered, all I have to do is look at the phone and it unlocks, and yes, it works every time and is super fast. It doesn't matter if it is sunny, or in my room at night in the dark, it works! Touch Wiz has been updated to something called "Samsung Experience" which is nice. The S8 updated itself right out of the box. Running Android 7.0 Nougat which is nice! The headphones that come with the phone seem very premium. I can't say enough about the rear camera. I also owned a phone with dual 13 mp rear facing cameras, that can't take a picture anywhere near as beautiful as the S8. The sensors and software that Samsung uses for their cameras' can't be beat! The super AMOLED display has ruined me for life. It is so beautiful! Fast charge is nice, but the my only gripe is the battery life. With very heavy use, I get about 6 hours with 15% left. If I'm having a busy day, and not on my phone constantly, it will get me from 8 am to 10 pm with 10-15% battery left. The glass back is beautiful, and so are the curved bezel-less edges, which makes the phone slippery, and fair warning, they crack and break very easily. I personally purchased a Rhino Shield bumper guard. You can still appreciate the beauty of the phone, it is barely noticeable, with military grade protection. Rest assured, it is worth every penny!

Verified purchase: Yes

Good upgrade from the S7, but almost as fragile as an iPhone.

I upgraded my older Galaxy S7 to the S8. I like the feature upgrades and additional functionalities that the S8 has added, along with the newer Andriod version that S8 supports. Battery life seems to be good. Took a little getting used to as the "Home" button is no longer a button, but a touch icon, and the figure print reader is on the back now. Before with the S7 I could unlock just by touching my thumb to the home button, but now I have to do a two-finger action. Just took a while to get the rhythm down. My only negative feedback is the S8 is FRAGILE! Almost as bad as an iPhone! It slipped from my hand and fell about 1 foot, and shattered the screen. I've dropped my S7 from 3-4 feet onto the same surface without a scratch. After doing some research, I found that the S8 has a reputation for being one of the most fragile Samsung. Don't know about the S9. I had even purchased a SlimArmour case and a StinkLight screen protector, just hadn't put it on yet as I had just had the phone a little more than 2 - 3 hours. It was $$ to repair. Overall, it's a good phone and an improvement over the S7. Get a good case and screen protector and put it on pronto to avoid additional costs.

Verified purchase: Yes

Great Phone!

After having so many problems with LG phones, I decided to switch brands and find a new provider. This unlocked phone can work on any network. I just took mine to straight talk and got the bring your own phone activation kit, and was able to choose between any of the networks to set up my service. It works flawlessly so far! It comes with the necessary pieces to transfer photos, videos, contacts, emails, and more from your old device. It also came with a pair of headphones. I paired it with a ring case (a case with a built in rotating ring to relieve weight from the pinky) and it's the perfect fit for my small hands. The phone itself is amazing and has worked flawlessly so far. It has blue light filtering, one-handed mode, video enhancer, multi-window and more. The camera is stunning and it comes with tons of filter and stickers! I was able to re-download all of my old apps lightening fast on this new phone. After setting up the phone, downloading 30+ apps, using some apps, and tweaking the phone settings, I still have over half of the battery left. I would say this is the best phone purchase I have ever made, well worth the money.

Verified purchase: Yes

as expected

I like it! new phone in like 5 years, so it was a much needed upgrade! I'm glad that i went with the samsung galaxy s8! fits well in the hand, a little big as i have small hands, but the volume and everything is soooo much better than my last phone, which was a Sony Xperia X performance. that phone was janky af, honestly idk why i got it in the first place, but would not recommend that phone to anyone. the only downside to my galaxy is that when i plug in the aux cord in my car to my galaxy s8, it produces a loud static sound throughout my car. Idk why its doing that, i thought that it was due to the fact that i bought my aux cord from the dollar store, but then i bought a new aux cord from cvs, and it still did the same thing. i tried other peoples phone and it works perfectly well. so, idk if its my stereo or maybe that the s8 has its own unique aux cord that you have to buy just for it.

Verified purchase: Yes

S8 Active The Best

Really like the phone. As always take for ever to customize and turn off all the junk / spam / slam GUI and APPS that Samsung and the carrier put on the phone but what's new there. Otherwise a slick and beautiful phone. Absolutely Put a HD screen glass protector over the stock screen as soon as you get it. Samsung puts a coating on their glass and it does get dings and dents and blemishes. So protect it. Even though this is a rugged phone to begin with Put at least a thin rubber type case on it as well. Makes it even more indestructible. over all really like the phone and am sure I will love it once I adjust to the differences from my last phone which I loved (don't laugh) my old galaxy S5 (used it for 3.5 years) If it isn't broken and is still does what you need don't fix or replace it. Hope this S8 Active makes it as long. Spending 500 to 800 on a phone ever 1 to 2 years is just insane.... Oh and the battery life ROCKS................

Verified purchase: Yes

great phone for the money

So far so good!! The phone looked brand new. Not a scratch to be seen. You never know exactly what you are going to get with these things, and this phone did not disappoint. It has a large memory... a long battery life (I went three days after fully charging it after receiving it). It seems to have a pretty good camera too. It's a little big, but for me, that was just fine. My last one broke because of it getting dropped too many times... I'm hoping having a little bit of a bigger one will help that (more to hold onto) :) I like having the options for signing into accounts and the phone (eye scan, fingerprint, password, etc).. my other phone didn't offer those things. I have to get used to the screen always being 'on' as it always displays the time, day, and date, and battery power as well. I thought at first I wouldn't like that, but I've gotten used to it. I believe you can turn that off though if you'd like. Overall... so far a great phone.

Verified purchase: Yes

Awesome BEST Phone!!!

Really love this new phone! It's super packed with so many features. I had a Note 3 & 4 but I didnt take notes or use the stylus that much so I went with the S8 instead of the Note 8. Both the S8+ and Note 8 are way too long a phone for me. It would land up slipping out of my pocket and crashing on the floor or get snagged on something. I like the thin narrow size of this new S8 overall. It fits in my pocket better than any phone I've ever had. The face of it is just so beautiful and ultra tech in design. I wouldn't be happier with any other phone out there, even the new iphone X. I've had many iphones but I'm so hooked on this new S8 that I just can't go back to iphones! Besides, iphones have gotten way to expensive for features that most Android phones already had years ago.

Verified purchase: Yes

Excellent phone

Much like it's predecessor the Samsung Galaxy S7, the S8 delivers in many respects! The phone feels good to hold if you have medium sized hands, the extra large screen offers some great additional features. The Home and other buttons that are under the screen work flawlessly and help the buttons blend in to the screen flawlessly. The Infinity display is excellent. I would consider this type of display to be somewhat of a compromise in between the standard Galaxy screen and the Edge Galaxy screen! The ONLY disappointing thing I have found about this phone is the battery life. But it seems that most all cell phones these days have very poor battery life. But as someone who has owned the Galaxy S5, S6 Edge, S7 and now the S8 respectively, I highly recommend it to anyone considering upgrading. Great value at $500-600 (or less if you shop around!) especially compared to other brand and devices that are $800-1000+.

Verified purchase: Yes

I like the Galaxy S8

The Galaxy S8 has great reception, and I need that in an area I frequent that has poor coverage. I've tried a few other phones, and keep coming back to the S8 (this is my third). I just bought this one new-in-box, having tried a "renewed" S8 that cost nearly as much on Amazon but did not work well (probably why somebody traded it in). The S8 has more features than I will ever use, it's the reception that is important to me. Except for the renewed phone, I haven't had any problems with the S8. Still using my first one as my business phone, now have one for my personal phone too. They work where I need them too.

Verified purchase: Yes

Nice phone for casual user

My husband bought the Galaxy S8 a couple weeks ago. This is a good phone. The display quality is nice. The phone is not very wide, so my husband gave it to me and bought the Galaxy note 8 which he really likes when he is texting. For me the width is not an issue while texting because I prefer smaller phones. The speaker is also noticably loud and clear. I recommend switching off the always on display if you don't need it because I think it drains the battery much faster and it seems unnecessary in my opinion. I don't use my phone for much other than phone calls, texting, watching YouTube, and browsing the internet.

Verified purchase: Yes