About Motorola Moto X 2nd Generation
Performance processing.

Start up apps in an instant. The Moto X 2nd generation phone whizzes along at 2.5 GHz. The phone's Android 4.4.4 KitKat platform can upgrade to Marshmallow 6.0.

A bigger display.

The 5.2-inch display in the 2nd generation Moto X gives you extra viewing space to swipe, pinch and zoom allowing you to see more clearly.

Ample Internal Storage.

Onboard storage provides you with access to 16-32GB for all of your favs.

Larger camera than average.

Compared to other smartphones, having a 13MP camera ensures that your precious memories appear clearer without having to settle with inferior-looking images.
eBay has provided more information about this product above and is not affiliated with or endorsed by Motorola.
Compare Similar Models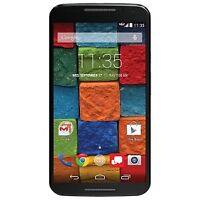 Motorola Moto X 2nd Generation
Operating System
Android 6.0 Marshmallow
Processor
Qualcomm Snapdragon 801, Quad-core 2.5 GHz
Display Size
5.2" Super AMOLED
Display Resolution
1920 × 1080
Size
5.54 x 2.85 x 0.39 inches