Overview of the Air Jordan 1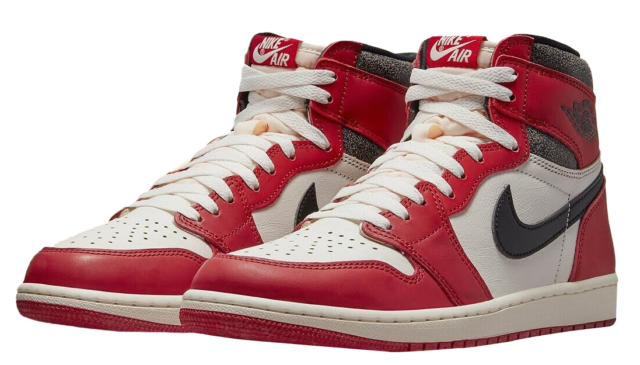 The Air Jordan 1 is the sneaker that started it all, marking the beginning of the most iconic lineage of sneakers in history. In many ways, it's responsible for launching modern-day sneaker culture as a whole-and it almost didn't happen.
History of the Air Jordan 1

As the story goes, the year was 1984, and Chicago Bulls' rookie Michael Jordan was a hot commodity for endorsement deals, with sneakers naturally being paramount.

Jordan had just come off a stellar college basketball season at the University of North Carolina. He wore Converse and was a personal fan of Adidas, so he took meetings with both companies, but they never reached a deal. It seems strange today, but at the time, Michael Jordan hated Nike-so much so that he refused to take a meeting with them.

He was persuaded by his mother, Deloris Jordan, to visit the Nike campus in Oregon and listen to their pitch. His plan was to go through the motions to appease his parents and agent but he ultimately left with a contract unlike any other.

Rather than walking in the shadows of established athletes like Magic Johnson and Larry Bird (which may have been the case had he signed elsewhere), Michael Jordan shone in the Nike limelight. He was paid more than any other athlete with a sneaker endorsement at the time. Nike made him the face of its growing presence in basketball, and gave him his own sneaker line-called Air Jordan.
The "Banned" Air Jordan 1

Many colorways got released in 1985 and 1986, during the original run of the Air Jordan 1. However, the Black/Red or "Bred" colorway is the most popular and recognizable. During an era when most sneakers on the court were primarily white with accenting team colors, the black and red shoes were so bold and edgy that the NBA deemed them unacceptable, as they didn't adhere to the strict uniform rules. MJ was warned that he'd be fined $5,000 each time he wore them, but Nike embraced the controversy and willingly paid the fines.

In a bit of clever marketing, Nike used the NBA's warning letters to sell the Air Jordan 1 as a shoe that was banned from the league, but not from the fans

The infamous commercial stated, "On September 15th, Nike created a revolutionary new basketball shoe. On October 18th, the NBA threw them out of the game. Fortunately, the NBA can't stop you from wearing them. Air Jordans from Nike."

Although it was actually a pair of black and red Nike Air Ships-a strikingly similar sneaker Michael Jordan wore during the start of his rookie season when he was fined-it didn't matter. The Air Jordan 1 solidified its place in history as the shoe that embodied Jordan's defiant attitude on the court.
A Sleeker, Lower Profile Design
Designed by Peter Moore, the Air Jordan 1 featured many elements, such as high-top construction and a perforated toe box, found in other Nike basketball sneakers like the Air Force 1, Vandal and Air Ship. But the Air Jordan 1 was sleeker, with a lower profile sole and the now-iconic Wings logo.
By today's performance design standards, some might call the Air Jordan 1 rudimentary and outdated, but aesthetically, it can be described as timeless.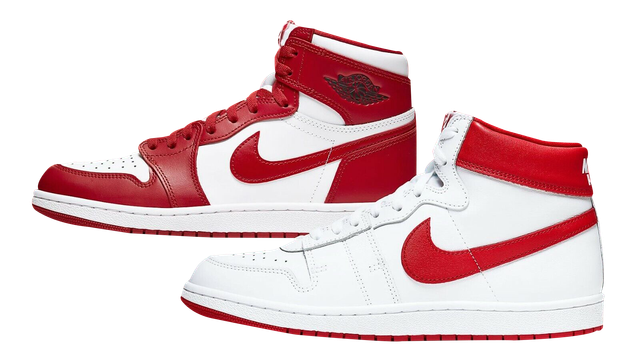 Air Jordan 1 Collectability and Value

Securing a pair of Air Jordan 1 sneakers for retail price today is an achievement, but in 1985 and 1986, they weren't nearly as rare or collectible. Air Jordan 1 was released for its original production run in almost 20 variations, including a slew of high-tops, several low-tops and the oddball Air Jordan 1 KO, also known as the AJKO.

Nike had tremendous success in surpassing its projected sales goals, but they flat-out overproduced the Air Jordan 1. The massive surplus of Jordan 1s in the market caused the shoes to sit on shelves. They retailed for $65 but could easily be obtained for much less on sales racks.

Today, the Air Jordan 1 High model retails for $170 but is worth much more on the resale market. It's highly collectible due to its history, extensive catalog of colorways, and simple construction. It's possible to wear a pair of original Air Jordan 1s from 1985, whereas other shoes from that period are usually unwearable. Another plus is that they retail for less than other Jordans, like the Air Jordan 11 or Air Jordan 3.

More recently, ESPN's The Last Dance docuseries gave fans a closer look at the Air Jordan 1 "Chicago" as Jordan laced them up in the locker room and wore them for his last game at Madison Square Garden before his first retirement in 1994. The sneaker was already one of the most popular original colorways, but immediately after the episode aired, demand soared and resale prices skyrocketed by nearly 100%.
Cultural Significance of the Air Jordan 1

The Air Jordan 1 is widely considered the first shoe to have a significant impact on sports, fashion and pop culture.

Without the Air Jordan 1 to pave the way, today's NBA players may not have the same freedom to rock sneakers with crazy colors and patterns.

The Air Jordan 1 also set the stage for sneakers being a tool for storytelling. In Spike Lee's 1986 film, She's Gotta Have It, Mars Blackmon, a character who would later be featured prominently in Air Jordan ads, can be seen wearing a pair of Air Jordan 1s. This became one of the most significant representations of sneakers-outside of a sports setting-in film.
The Air Jordan's Impact on Skate Culture
In addition to appealing to basketball fans, the Air Jordan 1 has a unique place in skate culture. They were plentiful and affordably priced on sales racks. The high-top construction gave them the support needed for skating, and they had a rebellious flair that resonated with the skating counterculture.
The Jordan Brand has celebrated its skate history by collaborating with Nike SB on several pairs of Air Jordan 1s designed specifically for skating.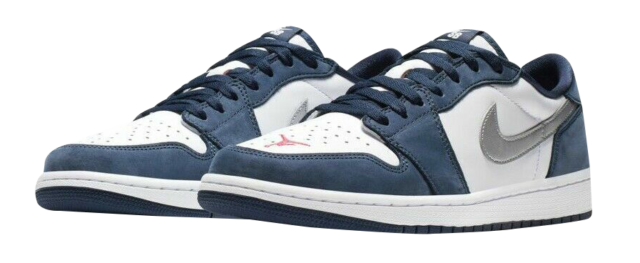 Most Desirable OG Air Jordan 1 Colorways

Air Jordan 1 "Banned"

Desirable OG Air Jordan 1 "Banned"

Air Jordan 1 "Chicago"

Desirable OG Air Jordan 1 "Chicago"

Air Jordan 1 "Royal"

Desirable OG Air Jordan 1 "Royal"

Air Jordan 1 "UNC"

Desirable OG Air Jordan 1 "UNC"

Air Jordan 1 "Black Toe"

Desirable OG Air Jordan 1 "Black Toe"

Air Jordan 1 "Shadow"

Desirable OG Air Jordan 1 "Shadow"

Air Jordan 1 "Storm Blue"

Desirable OG Air Jordan 1 "Storm Blue"
Most Desirable Retro Colorways and Collaborations

Air Jordan 1 "Shattered Backboard"
Off-White x Air Jordan 1 "Chicago"
Travis Scott Cactus Jack x Air Jordan 1 High
Travis Scott Cactus Jack x Air Jordan 1 Low
Air Jordan 1 "Bred Toe"
Air Jordan 1 "Game Royal"
Off-White x Air Jordan 1 "UNC"
Union LA x Air Jordan 1 "Black Toe"
Union LA x Air Jordan 1 "Storm Blue"
Melody Eshani x Air Jordan 1 Mid SE "Fearless"
Dior x Air Jordan 1 High
Dior x Air Jordan 1 Low
Jordans Release Dates, News and Articles
Attention all sneakerheads and basketball fans! Read all about the oldest and latest Jordan releases on the eBay Sneaker Hub. From iconic retro styles to new collaborations, you'll find everything you need to know to complete your Jordan collection.