About Huawei Nexus 6P
An exquisite frame for your life.

The Nexus 6P is sized to fit your life — and your hand. Precision engineered for optimal comfort and performance and crafted from aeronautical-grade aluminum.

A powerful camera that catches more light.

The camera in the Nexus 6P shines in low-light conditions. Its larger 1.55μm pixels capture more light even in the dimmest conditions to produce stunning details and sharp images.

5.7 inch WQHD AMOLED display.

With 518 pixels per inch, it's perfect for playing games, watching movies, and getting work done in stunning clarity.

The standard: USB Type-C.

The USB Type-C charger is reversible, which means no more guessing which way is up, and it's fast — get up to seven hours of use after only ten minutes of charging.
eBay has provided more information about this product above and is not affiliated with or endorsed by Google.
Compare Similar Models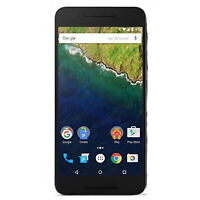 Google Nexus 6P
Operating System
Android 7.0 (Nougat)
Resolution
2560x1440 pixels
Internal Memory
32/64/128GB ROM, RAM: 3GB
Google Nexus 5

Operating System

Android 4.4 (KitKat)

Resolution

1920 × 1080 pixels

Internal Memory

16/32 GB ROM, RAM 2 GB

Google Nexus 5X

Operating System

Android 6.0 (Marshmallow)

Resolution

1920x1080 pixels

Internal Memory

16 GB or 32 GB ROM, 2 GB RAM

Google Nexus 6

Operating System

Android 5.0 (Lollipop)

Resolution

1440x2560 pixels

Internal Memory

32/64 GB ROM, 3 GB RAM