显示第 {CURRENT_SLIDE} 张/共 {TOTAL_SLIDES} 张 - 按互联网连接选购
About Apple iPad mini 4
Showing slide {CURRENT_SLIDE} of {TOTAL_SLIDES}
iPad mini 4 Mighty. Small.

There's more to mini than meets the eye. The iPad mini 4 puts uncompromising performance and potential in your hand. It's thinner and lighter than ever before, yet powerful enough to help you take your ideas even further.

Ridiculously light. Seriously thin.

iPad mini 4 puts everything you love about iPad into an incredibly sleek and portable design, so you can enjoy FaceTime calls with friends or get work done, wherever and whenever you want.

Power that's anything but mini.

iPad mini 4 is powered by an A8 chip with second-generation 64-bit desktop-class architecture that can handle even your most demanding apps. Whether you're editing a video, browsing photos, or both, your experience is smooth and seamless.

Two amazing cameras. Cleverly disguised as an iPad.

The iSight camera in iPad mini 4 delivers improved optics, an improved sensor, and an Apple‑designed image signal processor. It also includes handy features like panorama, time‑lapse video, slo‑mo, and burst and timer modes.
eBay has provided more information about this product above and is not affiliated with or endorsed by Apple.
Price Trends
Apple iPad mini 4 - Price New and Used
New Price*
from $294 to $320
Used Price*
from $187 to $226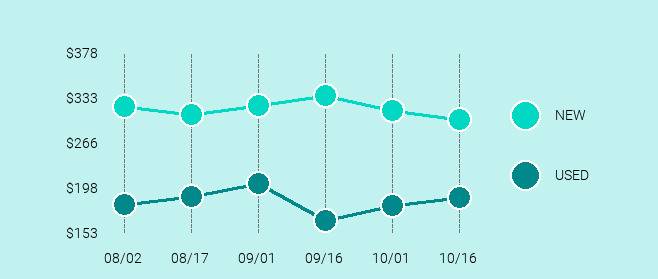 *The average sold price is calculated based on "Buy It Now" items sold within the 90 day period described above (excluding shipping and handling). Each interval represents a 15 day period. There is no guarantee that items will always be listed at a price within the provided range.
Compare Similar Models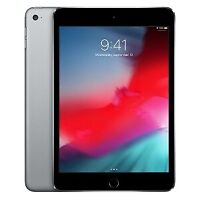 Apple mini 4
Screen Resolution
1536 x 2048 pixels
Camera Resolution
8MP rear, 1.2MP front
Storage
16GB / 32GB / 64GB / 128GB
Operating System
iOS 9, upgradable to iOS 12.1
Battery
5124 mAh - Non-removable Li-Ion
CPU
Apple A8 Dual-core 1.5 GHz Typhoon
Showing slide {CURRENT_SLIDE} of {TOTAL_SLIDES}
Apple mini 1

Screen Resolution

768 x 1024 pixels

Camera Resolution

5MP rear, 1.2MP front

Storage

16GB / 32GB / 64GB

Operating System

iOS 6, upgradable to iOS 9.3.5

Battery

4490 mAh - Non-removable Li-Po

CPU

Apple A5 Dual-core 1.0 GHz Cortex-A9

Apple mini 2

Screen Resolution

1536 x 2048 pixels

Camera Resolution

5MP rear, 1.2MP front

Storage

16GB / 32GB / 64GB / 128GB

Operating System

iOS 7, upgradable to iOS 12.1

Battery

6470 mAh - Non-removable Li-Po

CPU

Apple A7 Dual-core 1.3 GHz Cyclone (ARM v8-based)

Apple mini 3

Screen Resolution

1536 x 2048 pixels

Camera Resolution

5MP rear, 1.2MP front

Storage

16GB / 64GB / 128GB

Operating System

iOS 8.1, upgradable to iOS 12.1

Battery

6470 mAh - Non-removable Li-Po

CPU

Apple A7 Dual-core 1.3 GHz Cyclone (ARM v8-based)