显示第 {CURRENT_SLIDE} 张/共 {TOTAL_SLIDES} 张 - 按Network选购
About Apple iPad mini 2
Showing slide {CURRENT_SLIDE} of {TOTAL_SLIDES}
A little bit of tablet with a lot of amazing.

Any way you look at it, iPad mini is just incredible. With Retina display, the A7 chip, performance wireless, and powerful apps. It is also super-portable, fitting right in the palm of your hand.

The best pixels are the ones you can't see.

The Retina display has over 3.1 million pixels — a million more than an HDTV. That's a 2048 by 1536 resolution. The pixels are so close together, your eyes can't distinguish them, giving photos razor sharp detail.

Apple fit more in, but it still fits in your hand.

Even with all its features, the iPad Mini is still thin and light. It's just 0.29 inch thin and weighs less than three-quarters of a pound, so while you can do even more, you won't feel like you're holding any more.

Mini is even mightier.

The Apple-designed A7 chip brings 64-bit desktop-class architecture to iPad. That means up to 4x the CPU speed and up to 8x the graphics performance for everything you do, with up to 10 hours of battery life to do everything you want.
eBay has provided more information about this product above and is not affiliated with or endorsed by Apple.
Price Trends
Apple iPad mini 2 - Price New and Used
New Price*
from $192 to $226
Used Price*
from $80 to $116
*The average sold price is calculated based on "Buy It Now" items sold within the 90 day period described above (excluding shipping and handling). Each interval represents a 15 day period. There is no guarantee that items will always be listed at a price within the provided range.
Compare Similar Models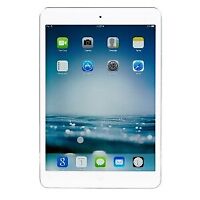 Apple iPad Mini 2
Screen Resolution
1536x2048
Operating System
iOS 7, upgradeable to 12.1
Camera (Rear/Front)
5/1.2 MP
Dimensions
7.87 x 5.3 x 0.3 inches
Memory
16/32/64/128 GB, 1 GB RAM
Processor
Dual-core 1.3 GHz
Network Connectivity
Wi-Fi only/LTE
Battery Capacity
Up to 10 hours (6470 mAh)
Showing slide {CURRENT_SLIDE} of {TOTAL_SLIDES}
Top 5 High ratings
Top 4 Low ratings
Great buy

It looks new, even it was open box. Like ti because of cute and lightweight. I can bring it everywhere, much more compact than my previous full size iPad. Another reason I bought, it was cellular. It is unlocked, I can use freedompop data card. I don't know whether it was, my feeling or truth. This iPad mini 2 was recharged slow. The battery life looks ok so far., While it took longer time to recharge it than my previous one. It might not be truth, because, I recharge it overnight most of time. Just sometime, I need recharge it at daytime, I feel it, took a long time. I can come back to update if I find out it is truth or my false feeling.

Verified purchase: Yes

Great little tablet

I needed the 64K model to be sure to have room for all my music and all my photos, and this was exactly what I was looking for, at an excellent price. I have been very pleased with it in every respect. Most impressive are the screen quality and the battery life. When the battery is fully charged it stays at 100% for up to half an hour, if you're not doing anything too demanding, anyway. While playing music or using iPlayer for example, you can run other apps like Safari or Mail without any interruption to the audio. The Kindle app is also great on the iPad. You don't need any external lighting because the screen is back-lit, so it's ideal for reading in bed., I didn't want a larger screen iPad, and the Retina screen on the Mini ensures everything is razor sharp, even when magnified. The smoothness of the magnification is most satisfying., I have no doubt there are 7" Android tablets as good as or better than this, but at this price the 64Gb iPad Mini 2 with Retina display gets my vote.

Verified purchase: Yes

ipad mini 2

I pad mini2 16 gig unlocked 4g cellular is great procuct for me just right because i can not see the letters on iphone 4s . it is 7. Apple, Processor Type Apple A7, Processor Speed 1.3GHz, , Display and Screen, Display Tech Retina Display, Resolution 2048 x 1536, Touch Screen Technology Fingerprint resistant, , Digital Camera, Rear Camera Resolution 5 megapixel, great product, , processor is faster than apple ipad 2nd generation which is 1 ghz., , good for its used price, , i would loiok for faster than 1.5 next ipad, Front Camera Resolution 1.2 megapixel

Verified purchase: Yes

My little girl Addison and her wonderfull new machine

Actually I have spent very little time with this device(including set up) But what I saw was a very nice screen (the mini 2 has the retina display) and as always from Apple, a very easy set up and operation. It was a Christmas gift for my 7yr old daughter Addison and has spent most of it's time with her. She uses it for some games but mostly watches YOU-TUBE or Netflix videos. Considering it has run almost all day everyday since Christmas, the battery seem to do very well. We upgraded to the 32GB version because from experience 16GB is not enough memory and the 64GB was way to expensive. If you choose to get one, do yourself a favor and buy a good case. The right drop on the corner will shatter the glass/touch-screen and they are a pain to replace. I know because I also repair phones and tablets and the mini is the most difficult to repair. The WiFi and processor in this device work very well and are super fast. In my opinion, anyone that uses this will fall in love with it's all around design. Addison loves it and won't hardly give it up so she can go to bed at night. I guess that's the only bad thing about it.

Verified purchase: Yes

Stinkin Awesome

Got the cellular one since I needed a real GPS. Got the extra memory. Had I got a new one (without cellular) and with 16GB RAM I would have run out of memory by now. Have used an android tablet for a long time. Didn't want to spend the extra $$ for any iPad. In hindsight, it would have been worth it. Apps cost the same and are better written with iOS. Never crashes, never halts the system when using the GPS like both my droids do (Samsung and Asus). This version of the mini is a smooth operator and 90% the same as the latest iPad at 1/3 the price.

Verified purchase: Yes