显示第 {CURRENT_SLIDE} 张/共 {TOTAL_SLIDES} 张 - 按Network选购
About Apple iPad Air (1st Generation)
Showing slide {CURRENT_SLIDE} of {TOTAL_SLIDES}
It's light yet powerful.

An incredible amount of power — and all your content — in just one pound. The iPad Air is 28% lighter and 20% thinner so you can do so much more with so much less.

The power of a desktop without the desktop.

Designed with 64-bit architecture, the A7 chip delivers up to 2x faster CPU and graphics performance — without sacrificing battery life.

Use it for work and play.

It comes with great built-in apps for the everyday things you do, like checking email and surfing the web. With over 475,000 apps are just a tap away.

It's easy to be Smart.

The redesigned Smart Cover and Smart Case automatically wake up when opened and go to sleep when closed—and they come in a whole range of colors.
eBay has provided more information about this product above and is not affiliated with or endorsed by Apple.
Price Trends
Apple iPad Air (1st Generation) - Price Used
Used Price*
from $71 to $119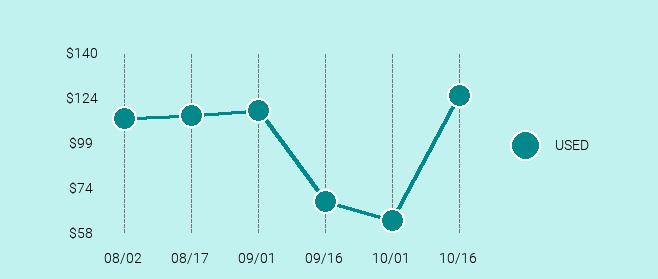 *The average sold price is calculated based on "Buy It Now" items sold within the 90 day period described above (excluding shipping and handling). Each interval represents a 15 day period. There is no guarantee that items will always be listed at a price within the provided range.
Compare Similar Models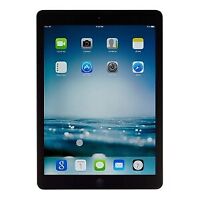 Apple iPad Air
Screen Resolution
1536x2048
Operating System
iOS 7, upgradeable to 12.1
Camera (Rear/Front)
5/1.2 MP
Dimensions
9.45 x 6.67 x 0.3 inches
Memory
16/32/64/128 GB, 1 GB RAM
Processor
Dual-core 1.3 GHz
Network Connectivity
Wi-Fi only/LTE
Battery Capacity
Up to 10 hours (8600 mAh)
Showing slide {CURRENT_SLIDE} of {TOTAL_SLIDES}
Top 5 High ratings
Top 5 Low ratings
Live it Love it and READ this before you spend to much (DEAL GRABBER)

The Ipad that I Bought, was Barely used in mint condition, no scratches scuffs or Problems, It is a Wonderful Tablet for Reading and games, as well as taking pictures, the Cam to Cam on facebook is not very good quality however I believe it is facebook's Connection and has nothing to do with the camera on the Ipad, as Pictures taken in Moderate light, are of the highest quality. Images are sharp and battery life is long, However continued use exceeding 10 hours without shutting it off and leaving it in standby mode, will drain the battery faster. , , We have 3 Ipad Airs and 1 Ipad 4th gen, The airs are faster in processing, and lighter, as well as upgradable to the newest ISO format, These are worth the money as long as you are not spending more than $125 For a gently used one, Due to the new Ipad Air 2 model that is available, for $200 offered by Apple. A used one that is dented or scratched should not be considered for more then $100 USD. Be wary of Bad deals, and keep watching the Feed for better ones. Took 82 hours to find mine, $80 for the first, $88 for the second and $100 for the third. all through Ebay. The last one was in mint condition the other two has minor nicks or a small dent on back. Overall Great for parents, or Teens. I would suggest a Gen 4 for a child under 7, or a Shock proof case, for an Air.

Verified purchase: Yes

Great value for a used iPad

At $270 to $300 used, this is a great alternative to the iPad Air 2 at more than double the price. The iPad Air 2 adds some new features (as do all new Apple iDevices) but IMO they're not worth the cost of purchasing a new model. So far I haven't found any apps this model can't run. My only complaint is the display's form factor; modern Android devices typically have a 16:9 display while the iPad is still stuck at 4:3. It's fine for reading, but when watching movies, the active part of the screen will be much smaller than on a 16:9 device of equivalent screen size., , Be aware that iFixit gave the iPad AIr a 2/10 in terms of repairability - even replacing the battery is a difficult job (looks like you can get it done for about $100, but I'd never try it myself, and I've repaired an iPhone 6). But as long as the battery is good when you get it, you should get have several years of use out of it (my kids' iPad 2's, circa 2011, are still going strong).

Verified purchase: Yes

IPad Air 1st Generation - Superb Instrument.

I purchased a used iPad Air at a significant discount from the original price. It is in mint condition, with no scratches or dents. This tablet is like an extension of my being; it is an endless source of information (I wish something like this had been available during my engineering training, half a century ago). The screen quality is superb, with the high-resolution "retina" display. A battery charge is claimed to be ten hours, although I recharge well before it drops to even 80%., , I have a library of well over 3,000 books on the iPad. This makes the old choice of what one book you would choose if you were marooned on a desert island obsolete (you would remember to take a solar charging panel with you) (;-)), , To summarize, this is an amazing instrument whose usefulness is limited only by the imagination/curiosity of its user.

Verified purchase: Yes

so very worth it

my girlfriend had an ipad 2. it was slow, heavy, and you could see the painfully huge pixels. trying to browse the web or read anything proved annoying and more tedious than it was worth. I would just use my laptop or phone instead. We were going on a trip with an 11 hour flight, so I decided to upgrade to a tablet with retina display. It's not the latest and greatest, but it sure feels to me like it is! the air is thin, light, super responsive and has a very crisp and bright screen to boot. I have absolutely no complaints! unless you're doing really intense gaming or video editing (and maybe even then), there's really nothing that the air 2 offers over this tablet. I don't really like the finger ID button, so along with a lower price, this tablet was the obvious choice for me. I could not be happier. And now I read more in bed!

Verified purchase: Yes

love my ipad air 1

i just upgraded from ipad first generation so this is light years advanced. i'm still finding new features available. the screen resolution beautiful. mic and speakers are clear. not sure what font this is but i like it too. the ease of taking pics and emailing or posting is great. i didnt and havent read all the features on it. it is faster to load than my pc. the best is long battery life. my apple charger died. very sad. i hooked the ipad through charger cable to usb on my pc. it actually charged with the pc on....one wouldnt think one would need to add that little comment.... heard some ipads wont charge off a pc. this one did. it is so lightweight. i bought a bluetooth keyboard. it paired quickly. i am really enjoying it. wonderful use for tax refund.

Verified purchase: Yes