About Apple iPad (5th Generation)
Showing slide {CURRENT_SLIDE} of {TOTAL_SLIDES}
Flat-out fun.

Learn, play, surf, create. iPad gives you the incredible display, performance, and apps to do what you love to do. Anywhere. Easily. Magically.

Watch, play, and create at full speed. Fast, fluid performance.

The 64-bit A9 chip delivers performance that makes every app feel fast and fluid. Explore rich learning apps, play graphics-intensive games, or even use two apps at once, all while enjoying up to 10 hours of battery life.
eBay has provided more information about this product above and is not affiliated with or endorsed by Apple.
Price Trends
Apple iPad (5th Generation) - Price New and Used
New Price*
from $251 to $307
Used Price*
from $178 to $198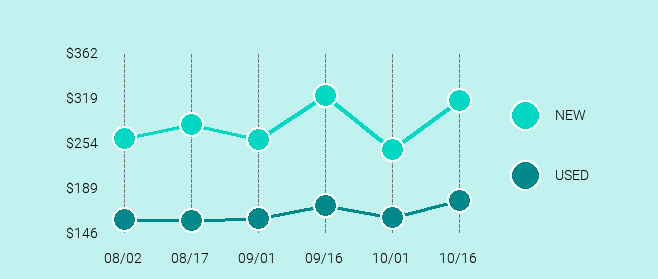 *The average sold price is calculated based on "Buy It Now" items sold within the 90 day period described above (excluding shipping and handling). Each interval represents a 15 day period. There is no guarantee that items will always be listed at a price within the provided range.
Compare Similar Models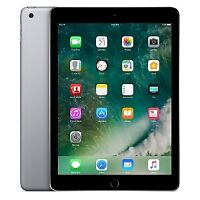 Apple iPad - 5th Generation
Screen Resolution
1536 x 2048 pixels
Camera Resolution
8MP rear, 1.2MP front
Operating System
iOS 10.3, upgradable to iOS 12.1
Battery
8827 mAh - Non-removable Li-Ion
CPU
Apple A9 Dual-core 1.84 GHz (Twister)
Showing slide {CURRENT_SLIDE} of {TOTAL_SLIDES}
Top 5 High ratings
Top 3 Low ratings
Just What I wanted

The screen is bright and the processor is fast, I like all the apps that you can get for this tablet., I had Amazon Fire tablets before this one from Apple and it just blows them out the water, It's, not even a contest. Sure you pay more for the Apple, but like they say,you get what you pay for., I'm able to run more than one app at a time and still their is no lag AT ALL. The battery life is unreal I work allot at night and sleep during the day I left it just to see how long it would last, I would check the battery usage in sittings every now and then when finely got down to were, it needed to recharge it 15 hrs and 45 min usage and 65 hrs. 30 min. standby unbelievable, and that is like I said running more than one app at a time. One thing I would recommend is, that you get a screen protector and case.

Verified purchase: Yes

Great tablet

This is my third tablet, the first being a Kindle Fire, the second an off-brand Android. I'm not at all a fan of the Kindle; they hardly have any apps I use. The Android was terrible quality., , But this iPad has been great. The screen is extremely responsive, the speed is good, the app availability is excellent, the size is a good compromise between a cell phone and laptop. I use it with a Bluetooth keyboard case for composing emails, and it works great. It's also a good size for resting on a podium and using it for notes while delivering presentations. The 32 GB disk is big enough for my apps and some music, but definitely not something I would want to try to store all of my music on.

Verified purchase: Yes

2017 iPad is a gem.

I purchased a new 32gb iPad for general used news, couple games, Netflix, YouTube ect. I don't use the video or camera but sometimes FaceTime. Battery life is excellent, quality is very good, it's fast and the price point is budget friendly for once compared to older model pricing. I had a ipad 2 for years and it worked well for what I do however I did not want to pay 500.00 for a new iPad so When the new iPad 2017 was introduced for 329.00 I could not resist. I don't think any normal user would have any complaints.

Verified purchase: Yes

Ipad 5ft generation

This is the continuation of the expansion of the core technologies of the IPad Air 2 which was the big step Make Ipad air 2 a the tablet of choice for basic internet browsing, reading email and vertical market, professional applications, taking orders in restaurants, factory stock room counting . The Ipad 5th generation will speed up its processor make the iPad thinner and lighter and working with third party applications developers to expand the vertical market and general applications. Apple is the only players in the market having migration path for Ipad Customers I

Verified purchase: Yes

My Ipad 3

This is my third Ipad and it is much lighter to hold, excellent screen quality and so many other features that I have not yet had the time to explore., I had tried a similar product, but gave it away. I don't think that there is anything better than the newer ipads. I use mine every day, have no problem with the battery or the clarity of the screen., I am now on my third ipad only because it has newer features , mainly for me lighter weight, because I carry it with me most of the time., Pictures are excellent. I no longer use my camera as my ipad is with me and able to take that unexpected quick shot that I would otherwise miss.

Verified purchase: Yes